My first trip to Chicago and to North America's largest convention center (McCormick Place) and to FABTECH, or any industrial trade show for that matter, did not disappoint. I helped manage my company's expo booth. Billed as North America's largest metal forming, fabricating, welding and finishing event, I got to hear about and discuss real business problems — and their solutions — from the perspective of the manufacturer.
FABTECH focuses on developing trends, such as the Internet of Things (IoT), automation, robotics, Industry 4.0, ERP (enterprise resource planning) and the future of manufacturing. There are also expanded management and workforce development educational tracks, which tackle the manufacturing skills gap, economic outlook, reshoring, international tax laws, and new leadership strategies.
Attendees from all over the world come to see new technology (digital, software and hardware equipment), ask questions and learn. Exhibitors do the same as well as educate buyers and build new relationships.
Innovations in manufacturing: 3D Printing
The U.S. Department of Energy's office of Advanced Manufacturing — Oak Ridge National Laboratory (ORNL) in Tennessee — displayed their 3D Printed Shelby Cobra. ORNL researchers transformed this classic sports car into a 3D-printed laboratory on wheels. Additive manufacturing enables the seamless integration of advanced technologies with design flexibility and modularity while providing a platform for rapid development and evaluation. The printed car incorporates "plug and play" components such as new engine, battery, and fuel cell technologies; hybrid system designs; and power electronics and wireless charging systems, allowing researchers to easily and quickly test out innovative ideas in a driving laboratory.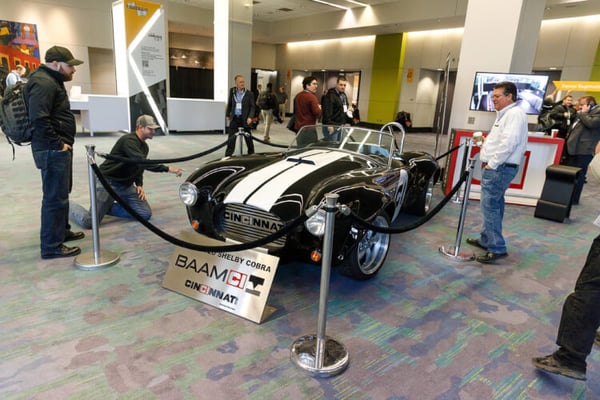 3D-printed Shelby Cobra muscle car (photo credit FABTECH Expo)
Next generation manufacturing: Automation
I spent the majority of our time meeting with scheduled appointments (and walk-ins) in our booth. Across the aisle from us was HACO Atlantic, part of HACO Group, which started in 1965 as a small Flemish family-owned business serving local industrial companies. Today, they're known around the globe from professional woodworking, sheet metal working, and aluminum milling machines to machine controls and surfacing installations. This giant — and unusually quiet — CNC machine used sheets of metal to form objects such as cell phone stands and desk organizers for attendees to take home with them.
HACO: Computer numerical control (CNC) is the automation of machine tools by means of computers executing pre-programmed sequences of machine control commands.
Manufacturing business solutions
Over at our booth, we talked with attendees about outcomes showing up on manufacturer's balance sheets and real business results, especially with the increasing complexities of the processes involved with the business of manufacturing.
Many manufacturers during the show lamented their rudimentary software tools, such as Excel spreadsheets and manual inventory tracking, used to run their business. It was amazing to hear how many manufacturing companies operate using business software last upgraded in the 1990s. We opened more than a few eyes as to what new solutions are available and what they're capable of achieving for their companies.
Top Five Reasons to attend (and justify the cost of) FABTECH
It is BIG — you can't possibly see everything in just one day, and trust me, you want to see everything.
It is LIVE — product demonstrations deliver not only a broad perspective of modern manufacturing but also tools and solutions you might not even know you need.
It is EDUCATIONAL — with over 100 sessions targeted to technical, operational, financial and managerial professionals, you'll gain valuable career-advancing knowledge.
It is INSPIRATIONAL — with well over 1,000 exhibitors, you get to chat with the people who work behind the scenes and see their perspective of the manufacturing world. You'll get your questions answered and walk away with a new and improved vision for your business. And demos, don't forget to ask for demos!
It is INTERACTIVE — networking with peers in your industry is one thing, finding similarities across the manufacturing spectrum is even better. You'll want to spend time socializing with suppliers, customers and colleagues in an awesome atmosphere. And check out a great city while you're there!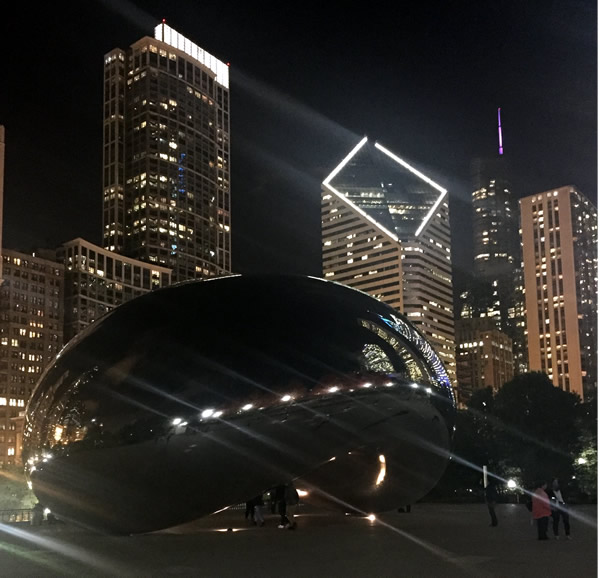 Chicago's iconic Cloud Gate aka "The Bean" at Millennium Park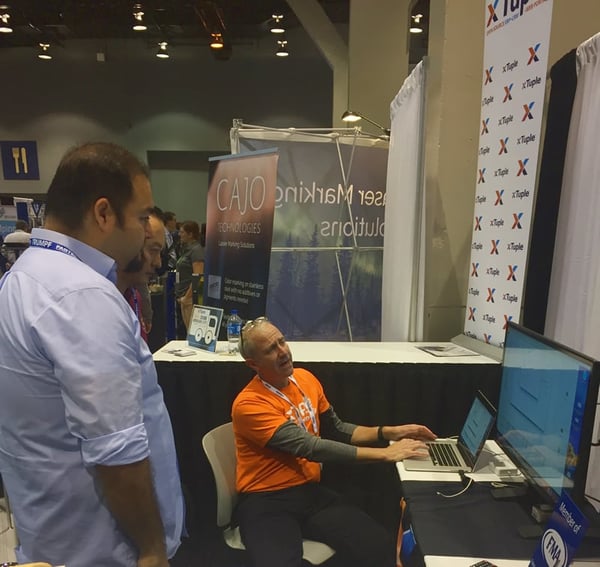 Wally Tonra giving a software demo at FABTECH
---