Why is the CertCapture feature in Avalara not working with xTuple?
If you are using Avalara's CertCapture feature to manage your customers' tax exemption certificates—and you are not getting the results you expect when entering sales orders in xTuple—then it's likely you need to enter a different exempt override code in the AvaTax advanced account settings.
To access the exempt override code, log in to your account on the Avalara website. Choose the "All AvaTax settings" option from the Settings menu: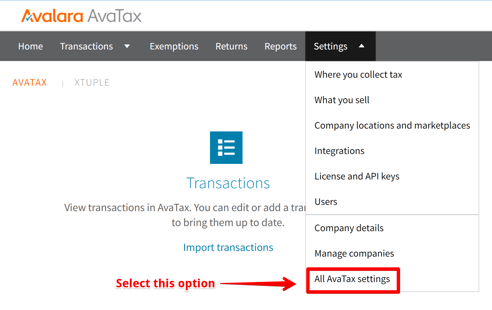 When you reach the AvaTax Settings page, scroll down to the "Advanced account settings" section. Then choose the MANAGE button, to manage your advanced settings.
Selecting the MANAGE button will bring you to the Advanced account settings page, which is where you configure the exemption certificate feature, as shown below:
If you are seeing this setup page for the first time, it's likely your exempt override code is listed as "Taxable." This code is incorrect. Change the code to something different (e.g., "Override"). Then don't forget to save this configuration change at the bottom of the page.
This should fix the problem with xTuple returning incorrect tax information on orders for your CertCapture customers.