Overview
In manufacturing environments, tools are issued and used on work orders then returned to inventory once the work order or operation is complete. Some shops also manufacture their own tools, so tools themselves must be able to be engineered and manufactured, or purchased the same as any other item in the system.
Within xTuple there is an item type specifically designed for tooling items. Tooling items can be included on bills of materials (BOM). They can also be engineered and manufactured using their own BOMs and routings. Tooling items have unique netting behavior so that when they are included on a planned order or work order they show up as both demand requirements like other materials, and as supply due at the work order due date. Finally, because tooling falls into a grey area of being both a material and a capacity constraint, tools are included in the capacity reporting available in xTuple ERP.
Terms and Definitions
Fixed Quantity
Used on BOM and work order material items to specify a "flat" quantity of material required that is independent of the total quantity produced on a batch or work order.
Tooling Item
A material resource used in the manufacturing process that is returned upon completion of a work order—for example, a reusable mold, apparatus, fixture, or tool. It may be included on a bill of materials for an item, usually specifying a fixed quantity. Tooling items can be purchased or manufactured. A manufactured tool can have a BOM, a routing, and a work order. As with other material items, tools can be tracked as serialized items.
Bills of Materials
Users can create BOMs for tooling item types, as they can with any other item type. Batch size becomes an essential element for cost calculations on items that have fixed quantities. This quantity will be required to be a number greater than or equal to zero to prevent division-by-zero errors when performing cost calculations.
BOM Items
BOMs allow users to add tooling and reference items as BOM items. Since these types of items are not typically required to be proportional to the quantity being produced, a "Fixed Qty" field allows specifying a flat rate quantity required for a work order. To open the "Bill of Materials Item" window, follow these steps:
Go to "Products" from the top menu
Go to the "Bill of Materials" submenu and select "List"
Select TSUB1 and click the EDIT button
The "Bill of Materials" window will open for TSUB1
Choose the TOOL item number from the list and click EDIT
The "Bill of Materials Item" window will open for the TOOL tooling item: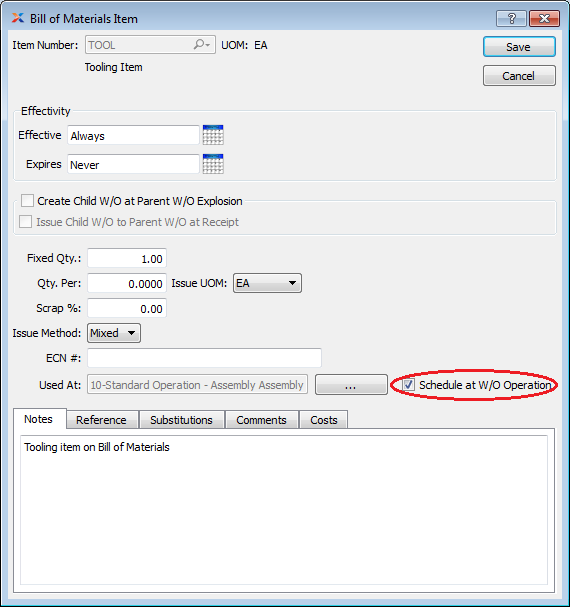 Fixed Quantity Tooling item on BOM
For tooling and reference items, the fixed quantity will default to one and the "Qty. Per" and "Scrap Qty." will default to zero. Regular items default to a fixed quantity of zero, "Qty per." of one, and scrap of zero. An item type column on the BOM screen makes it easy to distinguish between tooling and other types of items when looking at the BOM header. Fixed quantity is also viewable as a column on the BOM header.
Note: When costing BOMs by fixed quantity (for non-tooling and reference items), the fixed quantity will be divided by the batch size specified on the BOM header so that cost for the fixed quantity will be proportional to a real world case scenario.
Work Order Material Items
The "Work Order Material Requirement" window also allows users to enter a fixed quantity. The default rules for quantity are the same as the BOM. To open the "Work Order Material Requirement" window, follow these steps:
Go to "Manufacture" from the top menu
Go to the "Materials" submenu
Select "New" from the submenu
The "Work Order Material Requirement" window will open: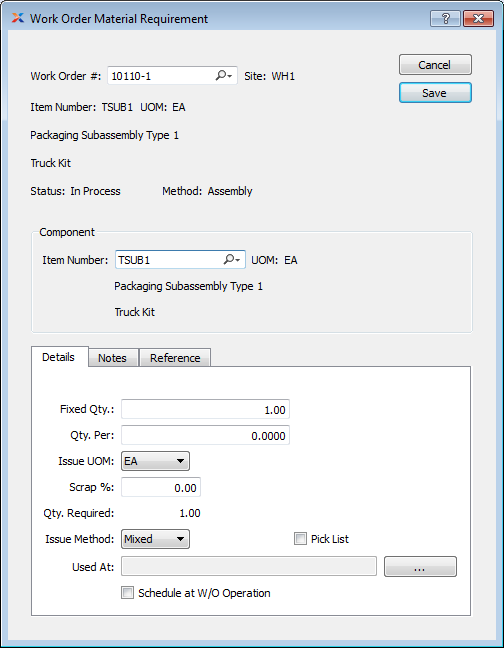 In the "Work Order #" box, click the magnifying glass icon and choose "List" from the drop-down menu
The "Active Item" window will open, choose TSUB1 from the list
The "Work Order Material Requirement" window will now reflect information for TSUB1
Reporting
Generally, all reports that use netting calculations consider fixed quantity. Additionally, several screens and reports listed below include tooling in netting: as both demand and supply:
Inventory Availability
Inventory Buffer Status
Item
Item Availability Workbench
MPS Detail
MRP Detail
Pending Availability
Reorder Exceptions by Planner Code
Return Authorization Item
Running Availability
Substitute Availability by Item
Sales Order Item
Transfer Order Item
Capacity Planning
In order to provide for visibility of tooling for capacity planning, the system provides the ability to define capacity information at the item site level. This definition will mirror capacity data inputs for the work center on the scheduling tab. This "Schedule" tab will only be enabled for tooling items.
To open the "Item Site" window for the "TOOL" tooling item, follow these steps:
Go to "Inventory" from the top menu
Select "Item Site" from the submenu
Select "List"
The "Item Sites" window will open, double-click TOOL from the list
The "Item Site" window will open for TOOL: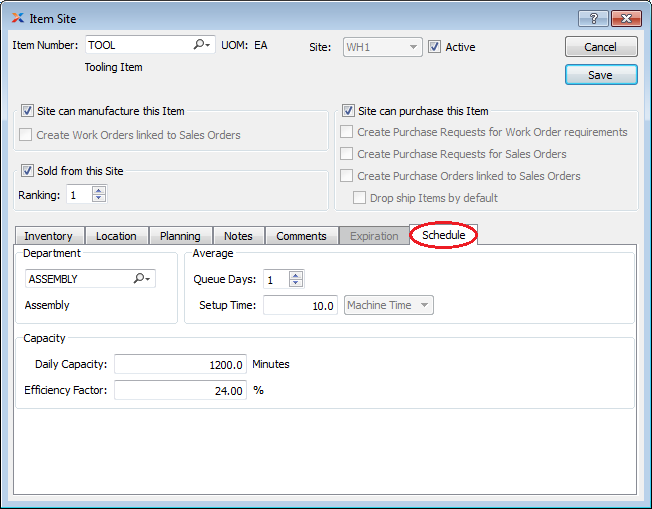 Schedule Tab for Tooling Item Site
Since tooling is intimately related to work centers in resource planning, it is likely engineers will want to see tools and other materials in the "Routing Item" window. For this reason, a tab for "Materials" appears in the routing item window, listing all materials associated with the routing item—with tooling items appearing in orange for special emphasis. Users can add, edit, and expire materials from the routing item screen. Additionally, they can associate materials that already exist on the BOM with the operation via the ATTACH and DETACH buttons.
To open the "Routing Item" window, follow these steps:
Go to "Products" from the top menu
Go to "Routing" from the submenu
Select "List" from the submenu
The "Routings" window will open, select TSUB1 from the list and click the EDIT button
The "Routing" window will open for the TSUB1 item, select ASSEMBLY from the "Operations" box and click EDIT
The "Routing Item" window will open for TSUB1, select the "Materials" tab to see the list of materials: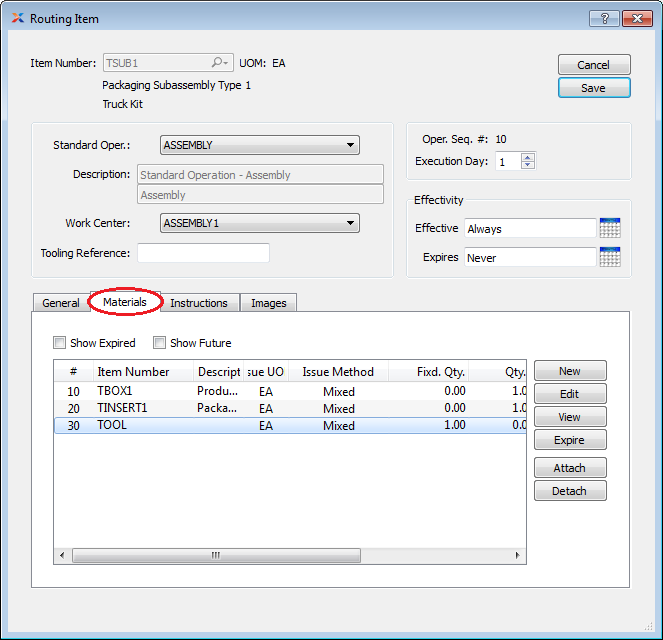 Reporting
The xTuple ERP capacity reports include checkbox options to show capacity for work centers and/or tooling:
Time Phased Capacity
Time Phased Load
Time Phased Available Capacity
Rough Cut Capacity
Time Phased Rough Cut Capacity
Capacity Buffer Status