How to Open the xTuple Desktop Client on your Mac when warned by Gatekeeper about Unidentified Developers
Apple's macOS has a feature called "Gatekeeper" that secures your Mac from unsigned software, forcing it to only run Apple-approved software by default. However, you are still free to run any application. The xTuple ERP+CRM application may present macOS users with a security warning when users first run the xTuple Desktop Client and when you update the xTuple application to a new version. xTuple is currently working with Apple to resolve this issue. In the meantime, see the steps below to work around this known issue.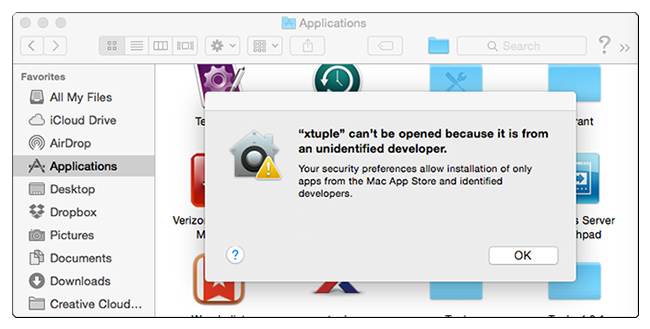 How to Open an Unsigned App
If you try opening the xTuple ERP+CRM Desktop Client by double-clicking, you may see the message: "xTuple can't be opened because it is from an unidentified developer." You can tell your Mac to open it anyway. To open an unsigned application, right-click or Control-click the xTuple application icon and select "Open."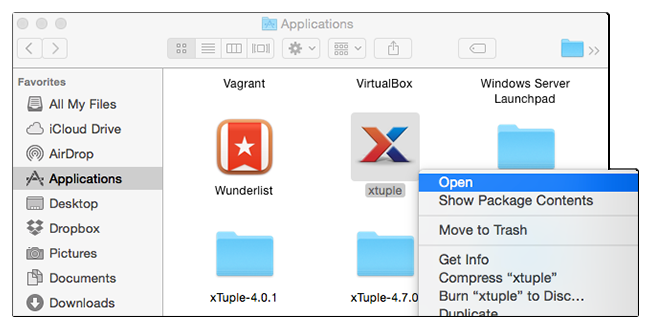 You'll be warned that the application is from an unidentified developer and isn't signed with a valid developer signature. Click "Open" to run it.
That's it. Your Mac will remember this setting next time you open the xTuple ERP+CRM Desktop Client, and you won't be asked again. You will need to do this the first time you run the xTuple ERP+CRM Desktop Client. Also, if you ugrade your xTuple application from one version to another, you will need to repeat this simple step.